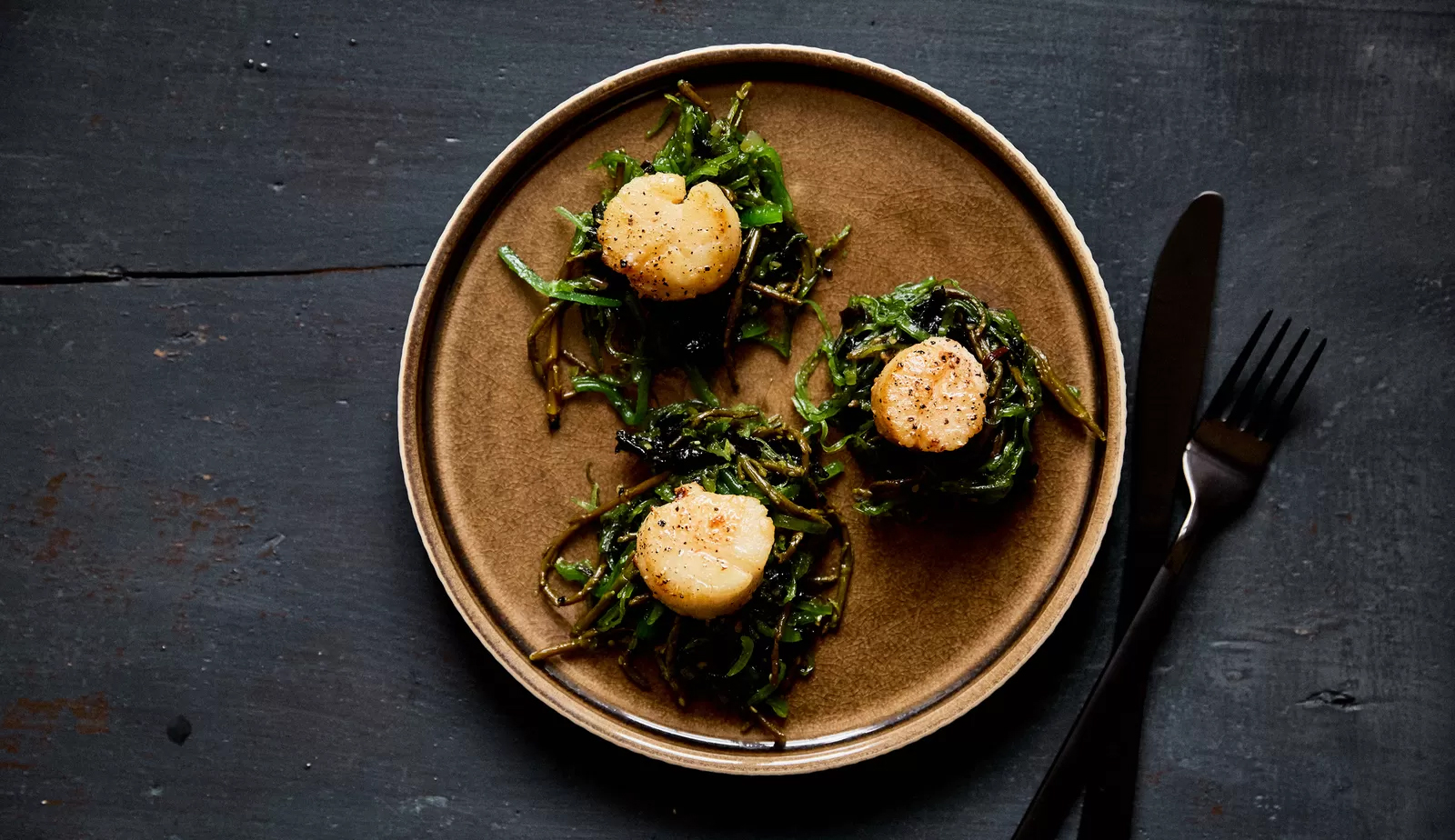 FOR THE SALAD:
1 tbsp rapeseed oil
1 shallot, finely chopped
50 g samphire
100 g fresh seaweed
1 nori sheet
1 small lemon
75 ml vegetable stock
Good pinch pepper
1 tbsp black sesame seeds, optional
FOR THE SCALLOPS:
6 scallops
1 tbsp extra virgin olive oil
Knob of butter for frying
125ml white wine
Allergens are marked in bold
Step 1
Place a small pan on a medium heat and heat the oil. Once hot, add in the shallot and saute for about 5 minutes, stirring regularly. Once the greens have been cooked for a few minutes and the liquid has gone, add in the nori to crisp slightly, just for a minute or two.
Add the seaweed and samphire with the stock, turning up the heat slightly. Add in the zest of the lemon and half the juice and season with pepper. Crush the nori sheet so it's fine, you can do this several times with your hand.
Toss and sprinkle with the sesame seeds if you're using. Set aside, and using the same pan, start cooking the scallops. Heat the oil for a minute or so and then add in the butter. As soon as it's melted, place in the scallops flat down. Fry on each side for about 1 ½ minutes then add in the white wine and cook for a further minute.
Turn off the heat, season with salt and pepper and squeeze over the remaining lemon juice.
Spoon a tablespoon of the salad onto the plate and top with the scallops decorate with the a little extra zest and a drizzle of good olive oil.