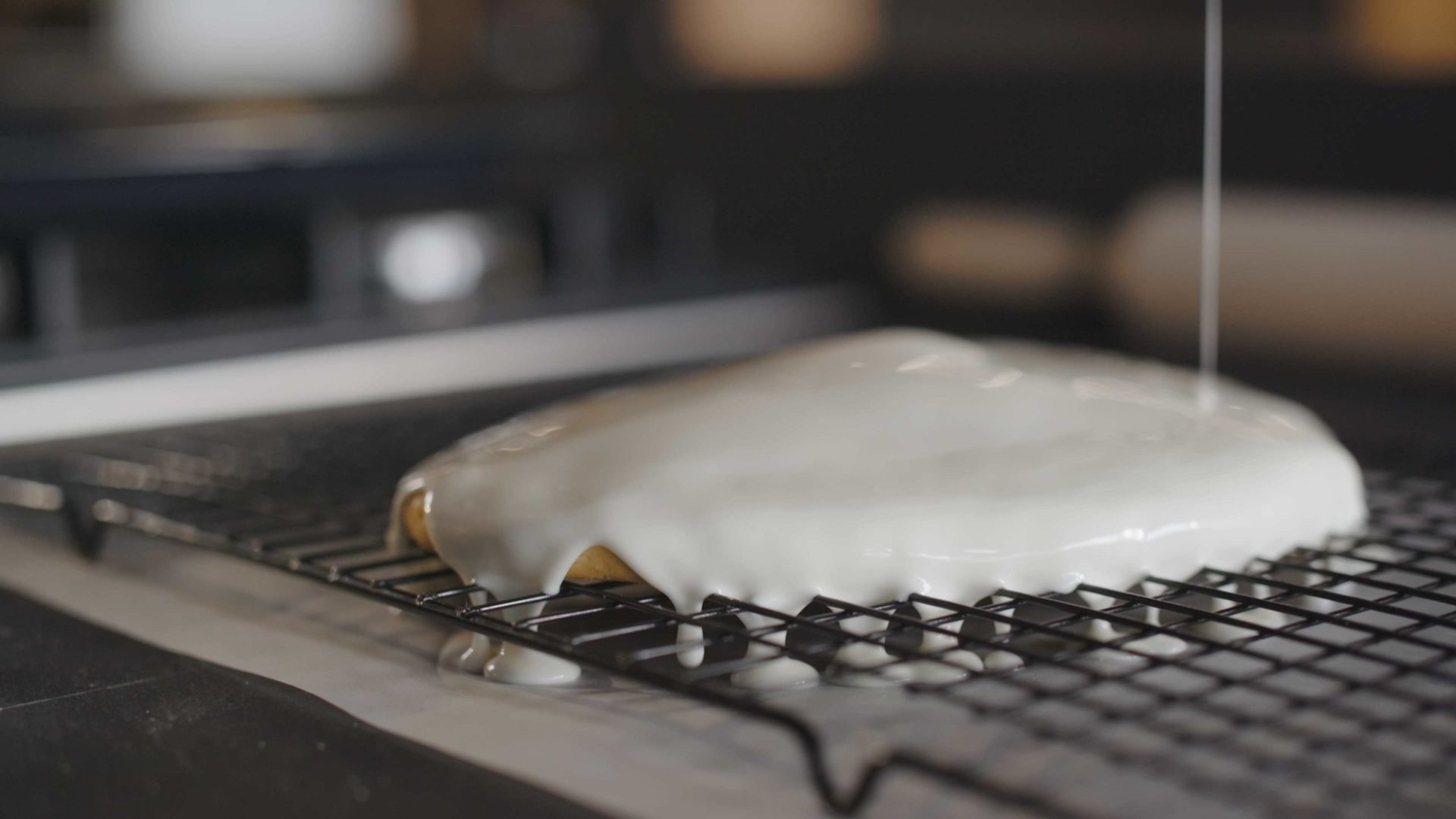 Pastry Dough
525g Plain Flour (Gluten-Free)
½ tsp Xanthan Gum
225g Unsalted Butter
150g Caster Sugar
Zest of 1 Lemon
Zest of 1 Orange
2 tsp Vanilla Extract
2 Egg Yolks
75ml Water
Almond Filling
250g Pure Ground Almonds (or almond substitute)
250g Caster Sugar
2 Egg Whites
1 tsp Almond Extract
Decoration
600g High-Quality White Chocolate
2 tbsp Oil
Sugar Decorations
https://www.youtube.com/watch?v=IHgOaYHTKHA
Method:
 In a food processor, mix your xanthan gum, flour and VERY COLD butter (cut into cubes) until the pastry looks like breadcrumbs.
 Cut the egg yolks into the flour mixture until the dough starts to form. Then add in the remaining wet ingredients together with both zests. Let the dough rest in the fridge for up to one hour.
Now combine the ingredients for the almond filling. Refrigerate for an hour.
Once chilled, cut the dough in half and roll it out on a well-floured surface. Use a cutter to cut to your desired shape and place the cutout portion of the dough onto a baking tray lined with baking paper. Repeat the same with the rest of the dough. Half your cut out dough portions will make the bases, and half will make the tops.
Cut a portion of the almond dough and press it with the palms of your hands. Place on the prepared dough cut out shapes, leaving a gap of approx. 1cm from the edges of the dough.
Brush the edges of the bottom half of the figolla dough with milk, and cover with the other cut out dough shapes. Press the edges together firmly. Brush The surfaces of your figolli with milk.
Bake in the oven at 180°C (fan) for 18 minutes. Remove and allow to cool on the tray for 30 minutes before transferring to cool fully on a wire rack.
To make the chocolate covering, simply melt the white chocolate in the microwave in short bursts until completely melted. Allow to cool slightly until it reaches 29°C. Now flood the baked figolli with the melted chocolate, slowly until all the surfaces are covered. Quickly add your sugar decorations & refrigerate until the milk chocolate has solidified.
Enjoy for up to 1 week!
---
Featured Appliances & Utensils
---
In collaboration with Uncle Mike's Bakery (@unclemikes.bakery) • Instagram photos and videos